Whether you're looking to hunt, plink, or shoot a specific target, it is always important to maintain the safety guidelines while using your air gun. Remember, you'll only get to enjoy your shooting if you follow the rules carefully. In the following section, we've listed the most important rules that you should always consider while using your air gun.
1. Do Not Point Your Airgun At Something Which Is Not Safe For Shooting
When you're using an airgun, never let its muzzle point at you or any other person. This is even more important when you are loading/unloading the gun trenbolon kaufen. When you choose to shoot a target, always understand what can stand behind it. Whether you miss the target or hit it, it is entirely your responsibility to ensure that your shot hasn't caused any inadvertent damage.
2. Always consider your Airgun to be a Fully Loaded Firearm
Your Airgun is not merely a tool for your hunting escapades; it has the potency to lead to permanent injury that might even lead to death. So always ensure that your airgun isn't loaded when you're not using it. One of the best ways to do this is by opening the chamber and visually examining the content. And that's not all! You should also avoid traveling with a loaded airgun.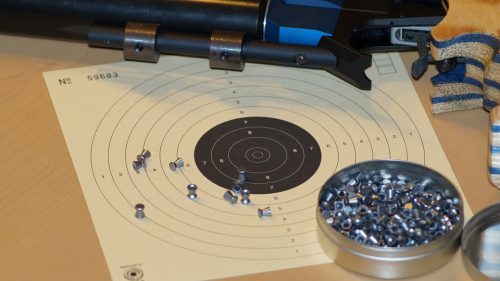 As a part of the airgun safety measures, it is also important to ensure that children under their legal age (of possessing an airgun) do not get any unsupervised access to your hunting gear. Ideally, you should keep it locked in a steel gun chamber.
3. Never Aim at a Solid Surface/Water
When you shoot at a rock or along the surface of water, there is a greater chance of fragmentation in your pellet. This will result in your projectile striking a peripheral target. So in order to ensure complete safety, avoid indulging in this sport.
4. Use High-Quality Pellets
No matter how tempting it appears, do not settle for low-quality pellets that are not suitable for your airgun. Specifically, ensure that every pellet that you're using is in the perfect caliber for your airgun. You'll find the caliber is marked on the barrel itself. Using low-quality pellets will not only affect the accuracy but it might also lead to impending safety hazards.
5. Maintain your Airgun Well
It is also extremely important to properly maintain your airgun so that it doesn't accumulate lint or dirt along the working parts. In order to prevent the possibilities of damage and corrosion, make it a point to clean and oil your airgun after every subsequent use. In addition, also follow the instructions mentioned in the Owner's manual.
Every time you load a barrel, make it a point to check it properly before you to do so. This is usually recommended so that you get to ensure that your gun is clean and completely free from any impending obstruction. When you fire against an obstruction, it can lead to an immense build-up of pressure, thereby injuring you and a fellow hunter in the process. So if you hear any strange noise while shooting, stop doing that immediately.
6. Wear protective glasses every time you shoot
Very often, pellet fragments or the pellet itself can ricochet thereby leading to a serious injury. Do not take this lightly as it might also cause you to lose your eyesight. Due to this reason, always make sure you wear impact-resistant shooting glasses while you're firing from the airgun. If you are wearing a pair of prescription glasses, wear this protective eye-gear over the prescription glasses.
7. Other rules/laws to consider
Always understand your local and state laws about the use of airguns.
Aim the gun in a safe direction.
Point the muzzle of your gun in a safe direction.
Do not re-use your ammunition.
Do not display your airgun in public.
Keep your finger on the trigger only when you are ready to shoot.
Keep your airgun on the 'on safe' mode until you're totally ready to shoot.
Check your backstop for wear and tear before you start using it.
Do not try to tamper with your airgun.
Do not use your airgun to intimidate people.
Final thoughts
Once you follow these safety guidelines, you're all good to go! Happy shooting!