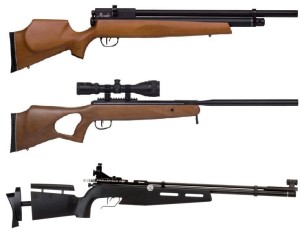 Looking for the best air rifle? Having the right rifle in your set up can be one of the most crucial things you make sure of.
However, finding the best pellet rifle is not that simple, that's why we've put together this resource — an all-inclusive guide to help you find the air rifle that will fit your needs.
Rest assured. We don't represent any particular brand.
Basically, this guide will tell you:
The basic principles of choosing the best air rifle for the money
Our Top 10 Picks comparison table for the best air rifle
Detailed reviews of our top 10 air rifles.
So, without further ado, let's begin the journey. We will start with one of your first decisions, the air rifle caliber.
Rifle Caliber
The type of caliber used for the rifle will depend upon how you use it. For hunting at longer distances or practicing long target shooting, you will need a rifle with high velocity and lighter pellets.
For hunting game, a high caliber pellet is helpful, such as the heavy steel variety. The most common calibers for air rifles are .177, .22, .20 and .25, with shooting competitions requiring the use of the .177 variety.
Even with the best .177 air rifle, these caliber pellets will not have the same power as larger counterparts, but they are cheaper to use and work fine for plinking and practice. They offer a flat trajectory and a velocity of over 1000 feet per second.
The .20 is a historical caliber that is sometimes seen as a middle ground between the .177 and .22 calibers and works well for small game hunting.
It packs more of a punch than the .177 and will shoot flatter than the .22, although these rifles are being made to shoot flatter and flatter, making the .20 less available.
The hitting power and high velocity of the .22 make it a great choice for shooting small rodents. Its heavy weight also gives way to better consistency and increased accuracy.
This caliber is highly popular, regarded as one of the most versatile calibers with widely available pellets. The downside to this type is that it is not heavy enough for larger species, and pellet gun reviews confirm this.
The heavy weight of .25 caliber pellets often calls for PCP powered guns used in medium game hunting. High velocity for this weight is dependent upon this. The PCP aspect tends to make use of this caliber a bit more expensive.
Our Current Top 10 Recommended Air Rifles
Image
Description
Caliber
Velocity(fps)
Power
Price
1. Gamo Big Cat


** Editor's Choice - Best Air Rifle **

0.177
1,250
Spring-piston
2. Ruger Blackhawk Combo


** Best Budget Air Rifle **

0.177
1,000
Spring-piston
3. Benjamin Marauder
0 .177
0.22
0.25
1,100
Pre-charged pneumatic
4. Benjamin Discovery
0.22
1,000
PCP and CO2
5. Gamo Silent Cat
0.177
1,200
Spring-piston
6. Benjamin Trail NP XL
0.177
1,200
Gas-piston
7. Gamo Hornet
0.177
1,200
Spring-piston
8. Gamo Silent Stalker Whisper
0.22
1,300
Gas-piston
9. Benjamin Titan GP
0.177
0.22
1,200
Gas-piston
10. Crosman M4-177
0.177
660
Multi-pump pneumatic
---
Air Rifle Reviews


The Big Cat is a .177 caliber single-shot rifle featuring 4x magnification and a 32-millimeter scope. With PBA Platinum ammunition it shoots at 1,250 feet per second. It has a single cocking mechanism and lightweight durable synthetic stock with polymer with a non-slip grip surface.
The unit is suitable for target practice as well as pest control for large and small animals. As a whole the Big Cat offers a solid build with enough weight to feel comfortable in the hands. The rifle is easily cocked and shoots well for experienced shooters.
The power from the Big Cat is one of its selling points, being able to penetrate exceptionally well. It performs best with the proper ammunition and a frequently cleaned barrel. Gamo air rifle reviews reveal shooters choose this high power air rifle for its force as well as the affordable price.


The Ruger Blackhawk is a spring-piston break-barrel single-shot rifle with a mount and 4×32 scope. It is composed of an attractive and sleek all-weather composite stock and is fog- and waterproof. The unit is ideal for plinking and shooting small animals, and is one of the best break-barrel air rifles for its price.
The Blackhawk is a strong and esthetic rifle with lots of power. For an affordable weapon, its power and precision are exceptional. The build quality is also impressive for an inexpensive gun. The fiber optic sights are easy to sight in and the scope, also made Ruger, is an appropriate match.
Even as one of the most powerful pellet guns, the Blackhawk operates reliably, presenting a great bargain for its price. All-in-all, the rifle is a great choice for intermediate to advanced shooters seeking simplicity. In addition to its accuracy and reliability, it is simple to use with an attractive exterior, presented as a joy to shoot for those that come across it.


The Benjamin Marauder is available in .177, .22 and .25 varieties. The model is exceptionally quiet and precise. The 10-shot repeating rifle operates on 2,000 psi of CO2 or air. It features an adjustable pellet velocity for maximum user control. The Marauder does not feature open sights so it is best paired with a scope
The rifle stock is adaptable for right- and left-handed users with a palm swell on either side of the grip. According to many airgun reviews, one of its most interesting aspects is its exterior finish. It features a black matte finish that is not affected by moisture and requires no special treatment to protect its appearance.
The disadvantage to this unit is its price. Depending on the caliber it may cost anywhere from $400 to over $700. That being said, the rifle offers multiple features that are usually only found on the most expensive European rifles, so it can be considered fair.


The Benjamin Discovery is ready to shoot nearly as soon as it is taken from its box. It is one of the simplest PCP air guns, providing at least 30 shots at full power before losing velocity. The Discovery is also extremely accurate, able to produce groupings within one inch at as far as 50 yards.
The rifle can be charged ahead of time so it's ready to shoot as soon as it's needed. One of the best aspects of shooting with it is its comfort. It produces nearly no recoil effect and it is very lightweight, making it easy to handle for an incredibly enjoyable experience.
The Benjamin Discovery is a great rifle for small game hunting and general pest control. It can also be used for plinking. It is a good option for those that want to experience a PCP rifle on a conditional basis.



The Gamo Silent Cat is a .177 caliber rifle shooting match-grade lead pellets at 1,000 feet-per-second and firing PBA ammunition at 1,200 feet-per-second. It is made of weather-resistant synthetic stock and is durable enough to lug around while also remaining comfortable. Ventilated rubber recoil pads protect the shooter while twin cheek pads make operation easier.
The non-removable noise dampener reduces sound by up to 52 percent and a manual trigger safety and automatic cocking system make using the gun feel more safe. The aspect most users rave about is the rifle's accuracy. For its price, most find the accuracy exceptional. It is well-suited for narrowing in on targets and can hit the same one repeatedly with the right ammunition.
While some users believe the unit could feel heavier or more compact, it is actually a solid and dependable rifle. The Gamo Silent Cat is a powerful hunting air rifle ideal for controlling various pests.


The Benjamin Trail NP XL is a sleek rifle with an included scope. It shoots alloy ammunition at up to 1100 feet-per-second and 950 with lead. The .22 cal pellet gun features single-shot capacity with a rugged break barrel offering 23 foot-pounds of muzzle energy.
The Benjamin Trail NP XL is ideal for small game hunting and varmint pest control. It is also a large and heavy rifle that may be better suited for those with more body weight or physical power. One of the most significant aspects of the rifle is its noise control. It is extremely quiet and smooth due to its nitrogen chamber and large barrel.
The synthetic stock is durable and weatherproof, yet some users complain about the exterior's finish. Depending on the individual unit, some users feel it isn't well-finished while others are left impressed with the craftsmanship.



The Gamo Hornet is a powerful spring-piston air rifle with a velocity of up to 1,200 feet-per-second with PBA raptor pellets and 1,000 feet-per-second with standard pellets. It features a single break-barrel cocking system with manual trigger safety. The .177 caliber rifle is ideal for hunting and target shooting.
The model features a ventilated rubber butt plate along with twin cheek pads for ultimate comfort. It is also lightweight due to its hollow stock, making it easy to carry. The downside to this may be the thin wall of the barrel inside a thick plastic sleeve.
The complaint most often seen with users of the Hornet is its scope. Many users feel the need to replace it with a high-quality unit for better sighting. A major benefit of this unit is its price. The Gamo Hornet can be found for around $100.



The Gamo Silent Stalker Whisper IGT is a gas-piston powered single-shot rifle with an adjustable Smooth Action Trigger. The gas piston offer numerous benefits over metal spring mechanisms. Such benefits include smoother shooting, smoother cocking, no spring fatigue and no spring torque even when left cocked for extended periods. It functions better in colder weather and lasts longer than metal springs.
The model shoots at up to 1,300 feet-per-second with .177 caliber PBA ammunition and 975 feet-per-second with .22 caliber pellets. The ND52 noise dampener reduces noise by 52 percent, and the Shock Wave Absorber recoil pad absorbs up to 74 percent more recoil. It features an ambidextrous tactical all-weather stock.
The main concern with the rifle is its scope, with many feeling the component is of poor quality. The model offers fiber optic front and rear sights that are so accurate use of the scope may not be necessary in some instances. The Silent Stalker is extremely accurate and powerful, a characteristic shared by many that shoot with it.


The Benjamin Titan GP Nitro Piston air rifle is an accurate, powerful and solid weapon for small game hunting and plinking. Available for around $150, it is one of the best deals in the nitro-piston category.
The gas piston allows a superior level of noise reduction compared to other barrels, and shots are smooth with little recoil. With the right ammunition, the powerful Titan can perform with 20 foot-pounds of energy at its muzzle. The unit is also solid and sturdy with an impressive finish.
The main problem with this rifle is the trigger. Many users find it complicated to determine when the two-stage trigger will actually let go. Aside from the trigger itself, the gun is very accurate, able to achieve tight groups with a flat trajectory at longer ranges. Altogether, the Benjamin Titan Nitro Piston is quiet but powerful in addition to being accurate. The rifle is suitable for hunting and removing home pests.

The Crosman M4-177 is powerful immediately out of the box. It is quick to sight in and readily able to provide extremely accurate shots with force. Some users have gone so far as to compare the M4-177 to a firearm, and the gun shoots BBs or pellets. The unit is ideal for plinking, target shooting and removing small animals.
The multi-pump rifle allows for increased velocity with increased pumping. It can be fitted with additional clips to save time and avoid interruption from constantly reloading. A main problem with many users is constantly pumping. Some view the need to pump up to 10 times between each round tedious and annoying. Aside from that, most users find it simply fun to shoot.
The unit is well-built with a realistic esthetic quality. It has an adjustable stock as well as front and rear sights that can be adjusted for wind and elevation.
---
Factors to Consider When Buying
How the Air Rifle Will Be Used
Before buying an air rifle you must be sure of how you plan to use it, as this will affect the type of gun you should buy. You must be quite specific, if you plan to hunt, determine the type of hunting in which you will mainly participate.
For smaller game, a gun that is lightweight with exceptional accuracy, such as a single-stroke rifle, will be ideal for targeting such quick-moving animals. Larger animals are best hunted with spring-piston high-powered air rifles.
You may plan to use your rifle for competition instead. The competition in which you shoot will have specific rules for the types of rifles it allows. The best pellet guns are often those with better accuracy, these include single-stroke and PCP or CO2-powered rifles.
Recreational target shooting, known as plinking, does not necessarily require the most accurate or powerful rifle. If plinking will be used as a means of practice then it may be a good idea to choose a gun that is more accurate and easy to use. What is important, however, is noise.
If planning to shoot in a residential area it is important to use a gun with reduced sound, either with added noise dampening or as an inherent feature. It is also wise to pick a gun that is comfortable to hold and shoot if you plan on plinking for extended periods.

Source of Power
Air rifles are powered by compressed air, but they have varying mechanisms that allow this to function. Power is measured in foot-pounds-energy, or FPE, at the rifle's muzzle. At longer distances the process becomes even more important.
A gun with too little power is likely to wound or maim instead of kill the animal due to the fact that the pellet will not hit with enough force, nor can it be well-controlled. An air rifle should produce no less than 12 foot-pounds-energy at the muzzle to effectively kill an animal at close ranges.
The three most common mechanisms include:
Spring-powered mechanisms operate quickly but involve numerous steps. As the rifle is cocked, the piston compresses a coiled spring inside the chamber. This causes a hook to move the sear.
As the trigger is pulled, the sear gets released and the spring decompresses. This pushes the piston forward, compressing air behind the pellet and shooting it through the chamber. These rifles can shoot pellets at the speed of sound with the right gun and ammunition. Consequently they also have a lot of recoil due to the motion of the piston.
Pneumatic rifles are powered with pre-compressed air and feature three of their own types: multi-stroke, single-stroke and pre-charged pneumatic, or PCP.
Both multi-stroke and single-stroke rifles involve pressurization of the compartment through pumping the weapon. Single-stroke rifles require one pump while multi-stroke rifles will need anywhere from 2 to 10 pumps.
Single-stroke guns are faster and more accurate, while multi-stroke rifles are affordable and easier for beginners to handle. Pre-charged pneumatic rifles are filled with pressurized air and offer easy cocking, negligible recoil and greater accuracy. The need to buy a reservoir tank makes them a larger investment.
CO2 rifles also use a reservoir, only it is filled with CO2. They also use a smaller volume of the gas compared to the air used with PCP rifles, and don't require monitoring of their internal pressure. CO2-powered guns can handle repetitive shooting without needing complex cocking mechanisms.
These rifles tend to be precise and affordable, making them a great choice from beginners to expert shooters. The downsides include the complexity of refilling tanks and the decreased velocity in lower temperatures.
Velocity, Energy & Accuracy
Many guns are advertised by their velocity in feet-per-second, and some use this as a means to determine how powerful the rifle will be.
In reality, the foot-pounds of energy, or FPE, is the most accurate way to distinguish the best high power air rifle. This measurement determines the force when the pellet hits the target, instead of just velocity alone.
The weight of the ammunition and the length of the barrel will affect the resulting velocity, and this will affect the shooter's accuracy. A rifle with a lower velocity is more likely to provide greater control and accuracy.
Depending on the shooter's needs accuracy may not be the most important factor. The most powerful pellet rifle will be more accurate than the fastest. When in need of a high-speed or semi-automatic rifle accuracy will take the back seat, as velocity and simultaneous shooting will triumph.
Pellet Types
Most modern air rifles use lead pellets that offer less ricochet hazard, better accuracy and greater transfer of energy compared to older steel BBs.
The first pellets were standard with little variety or versatility but there are now several types available:
Wad cutters are flat-top pellets usually used for target shooting because of their accuracy and ability to produce clean holes in paper. They also work well in close range hunting of smaller animals because they transfer greater

energy to the target.

Round nose pellets are versatile pellets that are good for target shooting, plinking and small-game hunting.
Pointed-nose pellets are used for hunting in which maximum penetration is necessary.
Hollow-point pellets excel where maximum transfer of energy is needed.
Performance Ballistic Alloy, or PBA, pellets are fast and light, being 50 percent harder than lead pellets with a speed as much

as 25 percent higher.

Polymer tip hollow-head pellets are regarded as the best pellets for hunting, with hard polymer ballistic tips that cut through the air, offering remarkable accuracy. The polymer tip causes the pellet to expand outward upon impact. Thus the diameter of the pellet is increased as it passes through the target.
Crosman Powershot pellets are lead-free, belted and pointed. They are designed to maintain shape after impact, offering better penetration.
Most Popular Air Rifle Brands
Beginners may be swayed to try out certain rifles based on what they've heard about a brand. While there are many brands producing decent rifles, there are a few that stand out from the rest. To acquire a feel for the best pellet guns available, it may be worth it to explore the following brands before others.
Air Rifles as Replicas of Firearms
Many air rifle manufacturers are able to produce guns modeled after actual firearms. Durability, appearance and accuracy can all be achieved in air rifles the way it would in traditional guns. Those looking to target larger prey may want a pellet gun for hunting that closely mimics a standard rifle.
When using pellet guns for hunting, they act as a more humane and less noisy method than firearms. Ruger is one brand that is popular for producing some of the best air guns that are reminiscent of firearms due to the fact that they began as a firearm brand.
Mobility and Size of the Air Rifle
The size of the air rifle will play a large part in air rifle hunting over casual shooting. When bringing the rifle along, the shooter needs to be able to carry it easily. Lightweight models are easier to handle for long hunting trips and even heavier rifles can be made more mobile with slings.
Price Considerations
One of the most important factors for beginners is the price they pay for a rifle. Most shooters opt for the best air rifle for the money, but some may need special features that require a more expensive model. Rifles may range in price from less than $100 to over $1000.
Legal Concerns Regarding the Use of Air Rifles
Each jurisdiction mandates use of air rifles individually, thus there may be different regulations from state to state or even county to county. Some places only require the purchaser to be 18 or older, others also require a background check.
Some regions even require a permit before an air rifle or its ammunition can be purchased. Read more here.
Upholding Safety Standards
Because of the seemingly innocent action of air rifles, mainly due to the lack of sound compared to firearms, people can sometimes become careless when using them.
Some of the ammunition used for animal targets can be fatal to a human being, so users should exercise extreme caution as they would with any other weapon. Some of the most important safety tips to keep in mind include the following:
Never point the rifle at anything or anyone that is not the target.
Treat each rifle as if it is always loaded.
Follow all rules for safe gun handling and stay aware of the surroundings, including people.
Hold the rifle safely until prepared to shoot.
Never load the rifle until prepared to shoot.
Aim the rifle in a safe direction.
Always use stable and new ammunition. Never re-use old pellets.
Keep on shooting glasses and ensure others do the same.
Ensure fingers are off the trigger and guards until ready to shoot.
Read the rifle's safety manual thoroughly, and consult with more experienced shooters when necessary.
Keep the gun in safe mode and ensure it is unloaded when receiving from the store or from others.
Unload ammunition when the rifle will not be in use.
Store rifles in a safe place away from children and pets.
Follow local laws about purchasing, owning and using air rifles.
Supervise minors when using the guns.
Decision Time
So, what is the best air rifle? The best air gun will be different for each shooter, thus no single model can be seen as the best pellet gun on the market. Numerous criteria affect the selection itself and even within the selection only some guns will make the cut. To help narrow down the multitude of choices in modern air rifles, potential buyers should rely on pellet rifle reviews to help make an informed decision.