The caliber air gun you're going to choose will usually depend on the type of shooting experience you're looking to be a part of. While .20 caliber pellets are great for general shooting, the .22 caliber ones are the ideal choice for a hunter. Ideally, you can pick from .177, .20, .22 and .25 caliber pellets depending on the purpose you'll use the airgun for. In case you're clueless about the caliber you should be choosing, here's a simple walkthrough that'll definitely help you with your choice.
.177 Caliber Pellets
This is the oldest caliber on our list, and it probably originated somewhere during the beginning of the twentieth century. The .177 Caliber appears to have been first used in England, which at that point used to be a major hub of air gun development.
The primary benefit of a .177 or a relatively smaller pellet is the fact that it uses much lesser material (lead). Being lighter, it is absolutely perfect for bullseye target shooting. In addition to that, it can also be used for general shooting.
However, although it might be used for some occasional rounds of general shooting, the caliber is ideally designed for target tournaments. This is because the kill zone holes tend to be lesser than ¼" to 2" in their diameter. So here, a smaller sized pellet will turn out to be a strategically better choice.
Pros
Ideal for target shooting.
Widely available.
Inexpensive.
Cons
Accuracy suffers because of the lightweight.
.20 Caliber Pellets
When Ed WackerHagen designed the first pneumatic air rifle, he realized that most of the commercial ammo (available during that time) was pretty inaccurate to work in his rifle. Due to this reason, he came up with the proprietary caliber known as the .20 caliber. Over the time, this caliber entered the commercial markets and America emerged as a leader in designing them. Many shooters consider this to be an excellent compromise between the .177 and the .22 calibers. It offers a decent range and can be used for shooting mid-long distance ranges. .20 caliber guns are usually ideal for general shooting and elimination of pests. You can also use them for mid-range game hunts. These pellets are not as widely available as the other variants, and you'll find limited styles to choose from.
Pros
A perfect compromise between .177 and .22 calibers.
Ideal for mid-long range hunts.
Can be used for shooting game and eliminating pests.
Cons
Not available and marketed well.
Limited styles to pick from.
.22 Caliber Pellets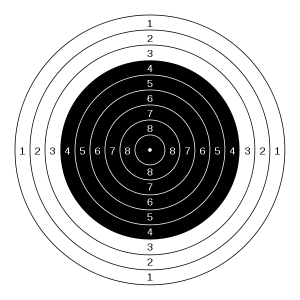 It goes without saying that .22 caliber is ideal for hunts. They evolved from the .22 rimfire at the beginning of the 20th century. During that time, this was usually used for smaller shooting jobs and elimination of pests. Over the time, the Caliber rose in status and by the 1960s it turned out to be one of the leading airgun calibers in the United States of America. Owing to its glorious history, you will find several pictures of .22 calibers featured in vintage journals and magazines.
Hunters are particularly fond of .22 Caliber as they hit harder and penetrate the target with more energy when compared to the .177 one. When a .177 caliber hits an animal, it doesn't seem to cause any immediate, visible damage. The internal organs of the animal might be damaged, and they might even die in the next couple of weeks. But despite this, they will not show any visible signs of trauma. Unlike them, .22 caliber pellets create a better impact and wound the animal immediately because of its high velocity and big size. Although they tend to cost more than the 1.77s, they're pretty decent for the price.
Pros
Being bigger in size they immediately wound the target.
An ideal choice for hunters.
Hits harder and penetrates the target with greater energy.
Cons
Costs higher.
Tends to be a little slow.
.25 Caliber Pellets
While many of us vouch for 'bigger is better', such is not the case with .25 caliber pellets. Being huge in size, they tend to hit their targets slower. This is even more relevant for the long-range shots. For short range shots, however, these calibers tend to be relatively better.
Pros
Ideal for short to mid range shots.
Decent in terms of power.
Cons
Huge size cuts down on the velocity.
Not a great choice for long-range shooting.
Final Thoughts
So, now that you know about the different types of calibers, explore your options and pick the one that best fits your needs.